Water quality is a matter of utmost concern, especially when it comes to ensuring the safety and well-being of both residential and commercial spaces. Backflow devices are the unsung heroes maintaining this crucial boundary between wastewater contaminants and the freshwater supply. They are absolutely essential for preventing cross-contamination, especially during instances of fluctuating water pressure. For residents and businesses Fixxer Company Plumbing is the ultimate resource for backflow device repair and replacement services.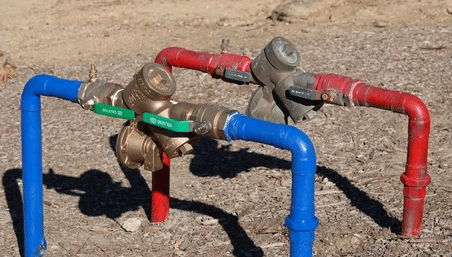 Your Go-to for Comprehensive Backflow Solutions
A master of all things plumbing, Fixxer Company is a licensed and insured residential plumbing company with a specialized focus on backflow double-check valve installation. In association with our trusted third-party partners, we also offer backflow certification, testing, and repair.
With our team at the helm, every job is executed with the highest levels of professionalism, ensuring the job is done right the first time and every time. We strive to surpass industry standards, offering you comprehensive solutions from repairs and installation to annual testing. Our promise to you is unmatched service quality from start to finish.
What Triggers Backflow?
Ordinarily, the water pressure in your plumbing system prevents backflow, keeping clean and contaminated water separate. However, certain factors can reduce water pressure, resulting in backflow. Common causes include:
Extremely high demand on the system
Backflow preventer failure
Frozen pipes
Burst water main
While backflow is most common in commercial buildings, it can also occur in residential buildings, highlighting the importance of installing backflow devices at home.
Recognizing the Need for Backflow Repair
Backflow prevention devices are generally long-lasting. However, they can still fall prey to damage. Since the average homeowner might overlook signs of malfunction, we recommend annual system testing to preempt any future repair issues. Nevertheless, there are early signs of trouble that might indicate the need for professional backflow repair services, such as:
Foul odor emanating from the water
A significant change in water quality
A drop or rise in water pressure
Changes to nearby irrigation systems
Our team of licensed plumbers in Dallas, Texas, can provide specialized backflow repair services should you notice any of these signs. We'll diagnose your prevention device and fix it promptly to reinstate protection for your home or property.
Repair or Replace: Making the Right Call
Deciding whether to repair or replace a malfunctioning backflow prevention system can be a tough call. To ease this decision, we've outlined key considerations to guide you. (**Note: We subcontract backflow repair and backflow certification to another company.)
Age of the Backflow Preventer: Valve technology is ever-evolving. Depending on the age of your model, an upgrade may be warranted.
Size of Your Valve: Smaller, more affordable valves typically deteriorate faster and are often replaced instead of repaired. Larger assemblies, given their higher replacement costs, are usually repaired.
Availability of Parts: Before opting for repair, ensure that the required parts are still in production. Obsolete components for older systems can be hard to find and more expensive.
Condition of the Assembly: Cracking and sealing issues often indicate brittleness, suggesting that replacement of the entire backflow preventer may be the best course of action.
When in doubt, the pros at Fixxer Company are here to help you make the right choice between repair and replacement.
Get in Touch Today
If your backflow prevention device requires attention, don't hesitate to reach out to our experts at (214) 974-3325. We're proud to offer the best backflow replacement services in the Mesquite, TX area and beyond. Trust us with your backflow needs and rest assured, we'll have your water running right in no time.