Backflow Repair and Replacement in Plano and Frisco, TX and Surrounding Areas
Backflow devices are an essential part of residential and commercial plumbing systems. The primary purpose of a backflow prevention device is to keep wastewater contaminants from getting into the freshwater supply. These devices provide peace of mind when there is a drop in wastewater pressure or clean water pressure that can result in water moving in the wrong direction and causing cross-contamination. The plumbing pros at Fixxer Company will help you make sure that your home or office water supply is not being contaminated by providing reliable backflow replacement services.
We Can Take Care of All Your Backflow Needs
Fixxer Company is a licensed, insured residential plumbing company and backflow double checking valve installation company. We can also facilitate backflow certification, testing and repair through our 3rd party associates.
When you hire us, you can feel confident that the job will be done right the first time, every time. We work hard to meet and exceed backflow industry standards. We will handle everything from repairs to installation and annual testing. From start to finish, we will provide the highest quality service.
Whether it is for your own home, or residential property you manage, you can always count on us to provide you with timely and cost effective backflow services. Our pricing and services are the best around. We look forward to proving this to you. Schedule an appointment with our backflow specialists today!
The Most Common Causes of Backflow
The water pressure in your plumbing system is designed to prevent backflow and keep clean water and contaminated water separated. But some factors cause a reduction in water pressure, resulting in backflow. Common causes of backflow include:
Extremely high demand on the system
Backflow preventer failure
Frozen pipes
Burst water main
Backflow is most common in commercial buildings, but it can also occur in residential buildings, which is why it is important to install backflow devices in your home.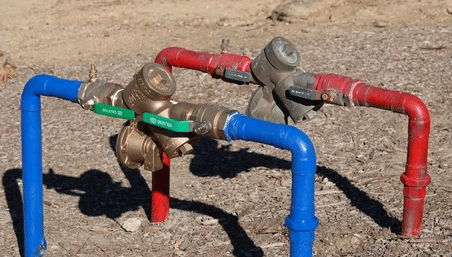 Top 4 Signs You Need Backflow Repair
Most backflow prevention devices have a very long lifespan. However, they are still susceptible to damage. The average homeowner may not see many signs that a backflow device has malfunctioned. That's why we recommend having your system tested at least once a year to discover and hopefully avoid any future repair issues that could wreak havoc on your property. That said, there are still some early signs that may show you need to hire professional backflow repair services. These signs include:
Foul odor coming from the water
A significant change in the quality of the water
A drop or rise in water pressure
Changes to nearby irrigation systems
If you notice any of these signs, our licensed plumbers can provide you with specialized Dallas, Texas backflow repair services. We will diagnose your prevention device and fix it accordingly to get your home or property protected once again.
Should You Repair or Replace Your Backflow System?
If your backflow prevention system is not functioning as it should, you may be forced to make a difficult decision. Should you repair or replace it? There are many factors to take into account. To help you with this problem, we've discussed these factors in detail. (**We subcontract backflow repair and backflow certification to another company.)
With regular maintenance and annual testing, your backflow prevention system can last for years. However, mechanical prevention assemblies have internal seals, springs, and moving parts that are subject to clogging as well as wear and tear. Due to these susceptible parts, you must decide whether to repair or replace them. Here are the top four factors to consider when deciding whether to repair or replace your backflow prevention system.
Age of the Backflow Preventer
Age is one of the most important factors to consider when deciding whether to repair or replace your backflow preventer. Valve technology is evolving as the industry discovers new ways to stop backflows. As such, depending on how old your model is, you might be due for an upgrade anyway. So, while you might have been considering a repair, it is advisable to replace it if you find a modern model that works more efficiently.
Size of Your Valve
Another important aspect to consider is the size of your current system. Generally, small valves are much cheaper to make and install. This speeds up the rate at which they deteriorate and require repair. Due to their affordability, many people usually opt to replace them rather than go through the trouble of repairing them. On the other hand, larger assemblies are costly to replace and so fixing them is a much better option.
Availability of Parts
Consider the availability of the damaged parts. Before deciding to fix your backflow preventer, try researching to see if the parts you need are still in production. If you have an older system it may mean that the compatible components might be obsolete, therefore making them harder to find and more costly.
Condition of the Assembly
Depending on how long you have your system and where it is installed, your unit may experience cracking and sealing problems. These two issues are difficult to correct with replacement parts alone as they often mean your valve itself has become brittle. Therefore, if you find an advanced rate of wear in some of your most critical components; then you should consider replacing the entire backflow preventer. If you need help repairing or replacing your backflow prevention device, call the pros at Fixxer Company today.
Contact Us Today
If your backflow prevention device is in need of repairs contact our experts at (214) 974-3325. We will offer you the best backflow replacement services in the Mesquite, TX area and beyond.
Fixxer Company Plumbing Services
Click the link to learn more about our services