WATER HEATER REPLACEMENT
Do you have a leak on your water heater? Do you have hot water? Fixxer Company Plumbing is ready to solve your water heater woes. Give us a call today to schedule a service appointment with our expert plumbers in Rowlett, TX and surrounding areas.
Sometimes a water heater can have defective parts or they can simply wear out over time. Sometimes the water heater will just slowly start to make less hot water than it used to. Other times, it will begin to fluctuate from hot to ice cold water which can be shocking when you are in the shower and get a sudden burst of cold water.
At Fixxer Company Plumbing, we provide a full range of water heater services in Forney, TX and beyond. Our team is committed to providing high quality water solutions, including repairs, replacements, installations, and maintenance. With our many years of plumbing experience, you can rest assured that we will get the job done right. We can install and repair any type regardless of the make or model.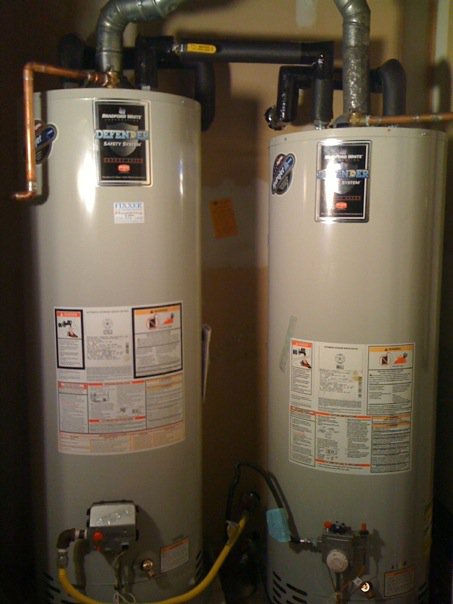 Tank Water Heater Repair and Replacement
A traditional tank water heater is a reliable and popular way to provide hot water for your home. However, over time, wear and tear can lead to a need for repairs or replacement. At Fixxer Company Plumbing, we offer comprehensive services for tank water heater repair and replacement to keep your home's hot water flowing smoothly.
Repairing Your Tank Water Heater
If your tank water heater is experiencing issues like leaking, not heating properly, or making strange noises, it may be time for repairs. Our team of experienced technicians can diagnose the problem and provide solutions to get your water heater back in working order.
We start by assessing the issue and providing an upfront, honest estimate for the necessary repairs. Depending on the situation, we may recommend repairs to components such as the thermostat, heating element, or pressure relief valve. Our team uses high-quality replacement parts and takes care to ensure the repairs are completed correctly and efficiently.
Replacing Your Tank Water Heater
If your tank water heater is beyond repair, or if you're looking to upgrade to a newer and more efficient model, Fixxer Company Plumbing can help with a professional tank water heater replacement. We'll work with you to choose the right type and size of water heater to fit your home's needs and budget.
We offer a variety of tank water heaters from top manufacturers, including gas, electric, and hybrid models. Our team will handle the installation process from start to finish, including removing your old water heater and properly disposing of it.
At Fixxer Company Plumbing, we're dedicated to providing top-notch tank water heater repair and replacement services to our customers. Contact us today to schedule an appointment and get your hot water flowing again.
Frequently Asked Questions About Water Heaters
Fixxer Company Plumbing Services
Click the link to learn more about our services